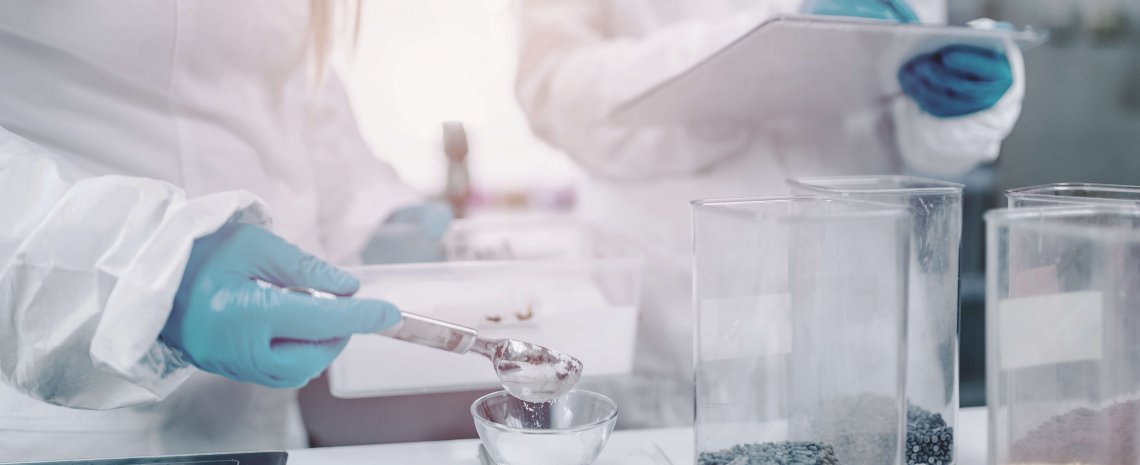 R&D strategy is our essential ingredient for high quality cosmetic manufacture. We have the latest equipment, complying and certifications. Helping us to create better formulations, packages and and keeping us ahead of the competition.
Global Cosmetics quality management system is equipped with the right facilities to carry out tests. Our lab is certified with several CNAS accreditation. We posses a "Global Testing Lab". We are certified by the China National Accreditation Service for Conformity Assessment (CNAS). Which is the national accreditation Institution of China, responsible of accrediting laboratories and inspection bodies. Furthermore by providing this accreditation to us we can have a safe management processes.
All our private and commercial laboratories have the highest testing standards. Through this accreditation we can demonstrate that our laboratory is equipped with the right facilities. We can carry out testing with a properly designed laboratory for any of your products. Also, our R&D strategy assures that our lab technicians are qualified and trained to perform tests with good accuracy and consistence.
Every CNAS assure that our standard operating procedure (SOP) are clear and precise. Guiding operations with precise analytical data and treatment of result. Above all it proves that we have all documentation and technical equipment capable of producing strong results. Similarly, we have also proficiency tests done by international accredited laboratories over the world. Being accredited with this specific CNAS we have being recognized with the same standards and professional status as global test labs such as Intertek, SGS, and BV.
Global Cosmetics is fully committed to safe and quality manufacturing, we convey with straight procedures during the management process where we warranty that we:
Use bar code control from raw material, through bulking process, till final product.
We have experienced and qualified QA engineer teams to conduct QMS check to warehouses. All production workshops ensure good hygiene practice and documents maintenance. The ISO22716 GMP plus CCP risk controls are fully controlled
All cosmetic products are inspected either based on AQL level II or 100% inspection. Zero Defect is allowed for functional & microbial control.
Our Global Cosmetics R&D Team has 30 staffs. 90% of them are tertiary educated in fine chemicals, chemical engineering, or microbiology. Some of them hold post-graduate degree. All of our engineers possess at least 5 years of experience in formulation development. Furthermore they are capable to work independently in leading categories like cream & lotion, toner & essence, mask, parfum, hair care, body care, functional skin care, and color cosmetics.
The engineers in the Formulation Team and the Regulatory Team are sent to seminars or conferences to update worldwide cosmetics regulation about safe use of ingredient and their application trends. We have established data base of raw materials complying EU, USA, China, Australia, Japan, ASEAN, etc. This makes us capable to develop formulations complying COSMOS, EWG, Certified organic, Palm RSPO, Vegetarian and vegan.
Our sample preparation facilities include : Fluko and Primix homogenizers, and IKA blender equiped with the latest testing instruments for Quality Specification procedures, such as Brookfield viscometer, Sartorius pH meter, etc.
Also, our Formulation Stability and Emulsion Phase Studies facilities includes centrifuge, inverted microscope, ovens and programmable temperature cycling chambers. Equipped with Courier + Khazaka Skin tester to determine the skin moisture, elasticity, color and oil. The in-build microscope also enable checking of wrinkle, pore, spot. It demonstrate the efficacy of skin improvement before and after the repeated application. R&D strategy for cosmetic manufacture is one of our highest and most valued core competences, we do strong work to keep updated on the last complying and certifications.
Global Cosmetics first asset is human capital. Our manufacture is filled with teamwork, individual capabilities, personal input and strong trend concepts.
Our cosmetic trend research track market trends closely and analyze it. We grasp consumer's behavior and habits to make better packaging and cosmetics.
Our global sourcing network has more than 100 suppliers from different parts of the world to provide prompt solutions with raw materials, packaging and more.
Our quality management system is equipped with the right facilities to carry out tests and our lab is certified with several CNAS accreditation.
Our Raw Material Management scoop suppliers performance and dis-qualify low delivery punctuality or quality. We care about standards and effective planning.
R&D strategy is our essential ingredient for high quality cosmetic manufacture. We have the latest equipment, complying and certifications.
Please feel free to contact us on your queries and we will get back within 24 hours.